While the Senate has been home enjoying time with their families for the 18-day-long Easter recess, the immigrant rights movement has been hard at work to keep them on task making calls and delivering petitions to key figures.
The Senate has been telling us that we are "close to" an immigration reform bill. When met with the March 21st deadline the Gang of 8 has responded with "nearly" there, "almost," or "about 90% done." We are not satisfied with "almost" – the time is now for real commonsense legislation.
Members of the Senate have left immigration reform undone and have fled the Beltway for an 18-day-long Easter recess in their home states. No amount of recess can shake off the fact that each day of inaction results in 1,100 American families being torn apart. Nearly 20,000 more families will be separated by the time the Senate reconvenes in DC to get back to the business they left behind.
The need for immigration reform does not get a recess and has been long overdue. Individuals are taking action all across the country, calling into local offices and delivering petitions to their Senators to represent the millions of people who want sensible immigration policy now.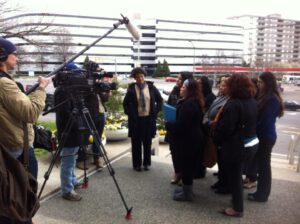 Senator Lamar Alexander received petition signatures in support of comprehensive immigration reform from the Migrant Women's Committee of the Tennessee Immigration and Refugee Rights Coalition.
Members of the Florida Immigrant Coalition delivered a petition in support of a pathway to citizenship and immigration reform to Senator Marco Rubio.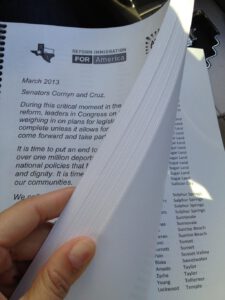 While the Senators may have left the paperwork for an immigration reform bill on their desks in DC, our friends with Reform Immigration for Texas Alliance piled it on with 170 pages of petition signatures from over 11,000 Texans.
You have been delivering petitions, leading marches and doing the work to demand that an immigration reform bill is introduced when the Senate is back in session in April. This is what democracy looks like. We will keep calling and marching and rallying until a sensible immigration reform bill is signed into law because our families and our communities need it!
Keep calling your Senators at 888-891-3271, and tell them the time is now for immigration reform. Let us know how your calls went on Twitter or Facebook.