"Even the most mundane things, such as grocery shopping we have always done as a family," and now they can't. Hear in her own words how our current broken immigration system has torn Shannon's family apart.
My name is Shannon. My husband, Hector, and I have been married for 11 years and we have two children ages 9 and 7. We have been a happy family who has always done everything together. We ride bikes, watch movies, celebrate birthdays, go out to eat, attend church, cheer together at my son's soccer games and my daughter's ice skating competitions-all together. Even the most mundane things, such as grocery shopping we have always done as a family.
All that was ripped away from us on June 6 of this year when my husband was given a five year ban from returning to the United States for missing an immigration court hearing thirteen years ago that he never knew about. We were trying to do the "right thing" and "bring him out of the shadows" or "go to the back of the line" as they say when referring to obtaining legal status for undocumented immigrants. We were completely devastated when we attended my husband's visa interview at the US embassy in Honduras and were told that there was no waiver for him to be allowed to return because of the missed court hearing. It doesn't matter that he is married to an American citizen, has American citizen children, that he has absolutely no criminal record, has paid all of his taxes or speaks proficient English. Nor does his extensive service to the US community as a soccer coach, mentor to at-risk children and volunteer with our local school district and various local ministries.
After staying together as a family for the rest of the summer, my children and I had to leave Honduras August 5 to start school. It was the most horrible day of our entire lives. To this day I don't know how I got on that plane because everything in me was screaming to stay and wanting to cling to my husband. We cried the all the way home. It's been nearly two months since we said goodbye and my daughter still cries every night because she can no longer kiss "Papi" good night as she has every year for her entire life.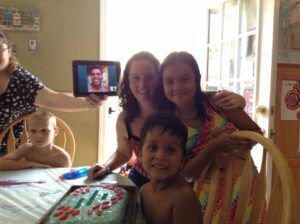 My son celebrated his 7th birthday with his dad only in attendance thanks to Skype. No child should have to celebrate a birthday with dad this way.
We need reform so we can be the happy united family we always have been. I need the support and strength of my loving husband and best friend, and my children need the guidance and love of their very involved father.