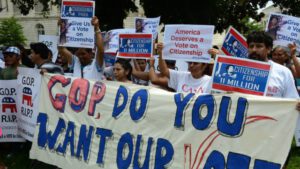 The Fair Immigration Reform Movement (FIRM) is taking to the airwaves with a clear message for Speaker John Boehner: You've helped lead the way on Steve King's anti-immigrant policies and the #TimeIsNow to lead on real comprehensive immigration reform.
Today the Fair Immigration Reform Movement (FIRM) has launched two Spanish Language radio ads in Ohio targeting House Speaker John Boehner. These ads tie together Boehner's lack of leadership to move true immigration reform forward with Rep. Steve King's comments earlier this month calling DREAMers drug mules.
According to Kica Matos, spokeswoman for FIRM, "Speaker Boehner has done the bare minimum that any politicians should do in publicly denouncing King's statements." Immigrant rights advocates are calling for Speaker Boehner to show true leadership in his actions and not in words.
"Under Speaker Boehner's leadership, we've seen the institutionalization of the Steve King doctrine, epitomized by the House Republican vote to rip thousands of immigrant children from their mothers and deport them. Policies like these are not generated in a vacuum. They are propelled by hateful speech that Steve King has elevated, which Boehner claims to condemn. It is the height of hypocrisy for Speaker Boehner to rebuke Rep. King's racist language, while simultaneously leading his caucus as they pass Steve King's measures to destroy immigrant families."
For all the Spanish language listeners, hear the ads and see if you agree
As a movement we will continue to spread our message for sensible immigration reform and the path to citizenship over the radio, online, over the phones and in person. We will continue to organize until the House gets its act together and commonsense immigration reform with a path to citizenship is signed until law.